The Don Valley Railway was originally part of the Sheffield, Ashton-under-Lyne and Manchester Railway which opened in 1842  between Manchester Piccadilly and Sheffield Bridgehouses via Longdendale, Penistone and Deepcar and the Woodhead Tunnel – at the time the world's longest tunnel.
Samuel Fox's steelworks in Stocksbridge were linked to the route, by then the Manchester, Sheffield and Lincolnshire Railway (MSLR), at Deepcar in 1876 and for a number of years a passenger service was offered to workers along the line between Deepcar station and Stocksbridge.
In 1897 the MSLR (including the line between Sheffield and Deepcar) changed its name to the Great Central Railway (GCR), in anticipation of the opening of its new trunk route South to London via Beighton, Annesley, Nottingham, Leicester and Rugby. This dramatically increased the amount of traffic carried on the line between Sheffield and Manchester.
In addition, the line was earmarked to become part of a European link between Manchester and Continental Europe, via a planned Channel Tunnel. This was the vision of the railway's farsighted chairman Sir Edward Watkin. However the events of World War I scuppered these plans and the toll taken on the railways led to the amalgamation of most of the independent railway companies into the 'Big Four', the GCR becoming part of the London and North Eastern Railway (LNER). The competing Midland route via Chinley became part of the London Midland and Scottish Railway (LMS).
In 1938 work started on electrifying  the railway between Sheffield Victoria and Manchester Piccadilly, via Woodhead. However it was not until 1954, after an interruption because of World War 2, that the upgrade and electrification was completed. The original plan was to electrify the lines through the existing tunnels at Woodhead. However, the parlous state of the 100 year old tunnels led to a new double-track tunnel being constructed. This was the last major piece of work to be authorised for Britain's first 'all-electric main line'.
Along the route of the Don Valley Railway, from Sheffield, there were originally stations at Neepsend (closed 1940),  Wadsley Bridge (closed to regular services in 1959), Oughtibridge (bizarrely the station was name Oughty Bridge and also closed in 1959) and Deepcar (closed 1954). After 1959  rail services ran non-stop through the stations proposed as part of Don Valley Railway.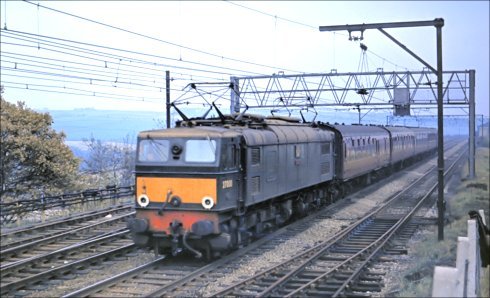 In 1970, despite not being favoured for closure by Dr Beeching himself, passenger services between Sheffield Victoria and Manchester ceased. Since then Sheffield to Manchester passenger services have been forced to use the longer Hope Valley Route.
In 1981 the Woodhead line was closed as a through route between Sheffield and Manchester following a BR drive to cut costs and the reduction in freight trains using the line between the Yorkshire coalfields and Power Stations in the North West. This resulted in the line being fully closed between Penistone and Hadfield, although a single line was left in place until 1986, as part of an agreement with the unions and Sheffield City Council.
In 1983 the last remaining scheduled passenger services using the line between Sheffield and Penistone (and on to Huddersfield) were replaced by an alternative service via Barnsley and with this the section of track between Deepcar and Penistone was closed completely.
Since this time, apart from the odd special for enthusiasts, and football fans bound for Hillsborough (via Wadsley Bridge Station), the Don Valley Rail Route, between Sheffield and Stocksbridge Steelworks has only been used for steel freight trains.
Despite this, there have been many proposals to re-use the route:
In 2000 the route between Sheffield and Stocksbridge was considered for Supertram  extensions. Subsequent analysis did not deliver a viable business case. Following this the Stocksbridge to Woodhouse Study (2002) found the cost of a rail option (at least £13million) was prohibitive.
In 2001 Connex, as part of their Trans-Pennine franchise bid, proposed reopening the route with a four train-per-hour shuttle service between Manchester Piccadilly and destinations beyond Sheffield calling at Guide Bridge and Penistone – The Strategic Rail Authority opted for alternative bids.
In 2002 Translink – A local Longdendale Group proposed the idea of a roll-on-roll-off lorry shuttle. Although this interesting idea was originally put forward by the Transport Technology Assessment Group (TTAG) of British Rail Research, by then it was viewed as unfeasible by the rail industry.
In 2003 Central Railway developed the idea of a Liverpool to Lille freight rail route that used much of the old alignments of the Great Central Railway, including the route over Woodhead and through the Don Valley.  This would have created a rail route for use by passenger services. However, the Government viewed the financial risks to be too great to underwrite.
The Don Valley Railway Project
The idea of creating a railway was proposed in November 2003 with the aim of developing both a Steam Heritage Railway and a commuter service on the line between Stocksbridge and Sheffield. Stations were considered at Stocksbridge, Deepcar, Oughtibridge, Wadsley Bridge and Sheffield Victoria as well as other locations.
In 2004 Don Valley Railway Ltd – a company limited by guarantee was formed and this gained Charitable Status.
In 2005 Don Valley Railway produced a study showing that there was a real demand for such a service in the Upper Don Valley.
In 2006 Don Valley Railway was recognised by being included in the Sheffield Local Transport Plan and the approach of developing a commuter service, taking advantage of cost savings offered by heritage (light rail order) status, were recognised.
In 2007, a failed attempt to win lottery funding to develop a heritage centre was undertaken. But at the same time a petition gathered 2000 signatures.  Development work, gaining knowledge and planning status continued along the route of the line.
A feasibility study, investigating the potential to deliver a commuter service, was proposed in 2008 and eventually delivered in 2010. A contribution of a third of the cost was received from both SYPTE and Sheffield City Council. With this study,  the Don Valley Railway Project fully evolved from being a heritage rail project into a new project to deliver a passenger rail service to the Upper Don Valley.
The Study's recommended introductory rail service was a non-stop shuttle between Deepcar and Sheffield Victoria. This would require a train doing a half-hourly shuttle taking 11 minutes each way using a diesel multiple unit.
Infrastructure required for this includes:
2 single platform stations (at Deepcar and Sheffield Victoria)
Upgrade of the line for passenger operation – including some extra safety features
Line-speed enhancement (including  canting the track and improving some sections)
The cost is estimated at £4.3 million pounds – a staggering reduction on previous estimates. This reduction was achieved because a track inspection identified the good condition of the existing track.
It may be possible to reduce the cost below the £4.3 million price tag – not least because costings include optimism bias (44% of the total is added to off set cost risks involved in development).
From analysis of the route by SYPTE in 2006, to investigate its potential as part of the Local Transport Plan, an alternative stopping pattern with more stops but a slower line speed put the revenue at £900,000 per year . The Arup study put costs of operation, using National Rail franchised operation, at £1.4 million per year for our proposal. This short fall in revenue of £500,000 would  require a lower per-passenger subsidy, using passenger forecasts (which may be bettered by our different service pattern), than the South Yorkshire Average for its supported services (2006).
It is hoped that the study will be the launch point for further work to re-open the line. However, funding to subsidise the service operation and for infrastructure is not immediately forthcoming. To develop a business plan a means of raising investment and reducing costs is required.
In order to find a lower cost method of operation, to minimize costs, alternative modes of operation were investigated.
As part of this, Parry People Mover technology was investigated. Parry People Movers Ltd have pioneered Ultra Light Rapid Transit on the Stourbridge Town to Stourbridge Junction service. Following this they were developing the PPM 175 rail vehicle
http://www.parrypeoplemovers.com/PPM175-spec.htm
Also in 2012, the Rotherham Tram Train Project was given the go ahead.